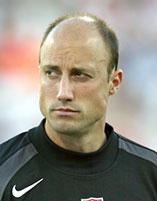 U.S. international Kasey Keller says he wants to be the team's starting goalkeeper in the 2010 World Cup... at the age of 40. Sure, 40 isn't old for a tree, or a Galapagos turtle, or even a world-class goalkeeper, but it surely must be too late for Kasey Keller to hold his starting spot on the squad. Keller didn't look overly sharp in the '06 World Cup and his German side Borussia Moenchengladbach is now sitting in dead-last and is soon to be relegated in the Bundesliga.

Keller's main competition should be Tim Howard and Marcus Hahnemann. The latter is ranked the #1 goalkeeper in the EPL and Tim Howard recently posted a clean sheet against rival Mexico. With either one of these two on the field for the national team, the future should be bright. Unfortunately, Kasey Keller feels he still has something to prove and if he insists on fighting for the starting spot, may only be standing in the way of good, young 'keepers like Troy Perkins of D.C. United.

Keller has been called into camp for the upcoming friendlies against Ecuador and Guatemala and will likely start one of the two games. It will move him to within a handful of Tony Meola's record 100 caps. If Bob Bradley wants to see Keller pass Meola, then so be it. But after that, the focus should be on the future, not on a guy that was with the team for the '90 World Cup and hopes to be around 20 years later.

If KK has any pride left after a disappointing World Cup and a sorry Bundesliga season, he'll announce his international retirement like Eddie Pope, Brian McBride and Claudio Reyna did. They all knew when it was the right time to hang up the cleats.