Several reports are coming out tonight that say Celtic striker Maciej Zurawski has officially agreed to play for the Columbus Crew, a solid signing if it is indeed true. MLS Rumors claims that it is a "done deal" and goes on to offer a few other details: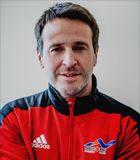 - Zurawski's salary will be somewhere in the range of $500,000 per year, but allocation money will be involved in a way that will allow the crew to hang on to their Designated Player spot. The Polish forward's contract has been structured with performance incentives.

- Zurawski will be leaving for Ohio as early as tomorrow afternoon. An official introductory press conference will be held by the Crew either at the end of this week or the beginning of next week.

Zurawski, 31, has played for Celtic since 2005, appearing in 55 games and scoring 22 times. He has also appeared 67 times for Poland, including in the 2006 World Cup, scoring 16 goals in international play. Together with Guillermo Barros Schelotto, the Crew attack can boast two major spark plugs with worldwide credibility, a major plus for both the club and the league.